I owe a huge apology to Carol Wulster - the creator of
several knitting software products
- because I wrote a very amateur, ignorant
review
of Sweater Wizard earlier this summer. Patience is not one of my virtues and it cost me the effort of knitting a tank top last month because I did not take the time to thoroughly figure out how to use Sweater Wizard's features. Not to mention that I gave false information about the software. Horrible. And I thought I was being a good journalist!
In the earlier post, I said my biggest peeves were (1) I couldn't enter my measurements other than my bust size and (2) I had to figure out the waist shaping on my own, manually. The truths are, while the only measurement you are prompted for is your bust size, you can change ANY measurement in the schematic and it will adjust the number of rows and stitches automatically; secondly, in version 3.0 (which I purchased) there is an option to select 2 types of body shaping - standard and hourglass. This too is customizable.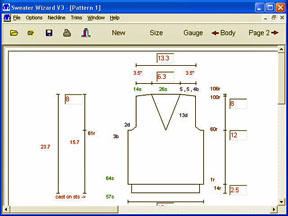 Here is what the v-neck tank top original pattern looked like before I made my own adjustments to the torso measurements. Note that the length is 12 inches between the bottom of the armhole to the top of the ribbing which corresponds to 60 rows starting from the cast-on edge based on my gauge.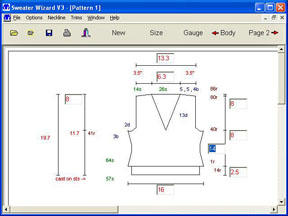 Now I simply change the 12 inches to 8 inches and select hourglass shaping of 14 inches. I hit enter and voila....notice how the number of rows for the torso has changed and how the schematic now reflects the pulled-in waist. Of course, the pattern directions are updated too.
I discovered this when I joined the Sweater Wizard group on Yahoo. Ai caramba. Sometimes one must, as we say at work, think outside the box. I was being too guy-like in my approach to the software: it must be intuitive; it has to be plug-n-play. Otherwise I actually have to think or, god forbid, ask for directions.
What does this mean? You know very well. I'm frogging the tank top (which I was sort of embarassed to show you anyway because I didn't think it came out right) and re-knitting it using a pattern created the proper way. Don't hold your breath, though. This is probably going to be next summer's repentant project. I'm itching to knit a wool sweater or two for fall/winter. You ladies knitting the Frieda are making me anxious!
Until the next day in the life.....